The Mystic Krewe currently manages two separate arcades in the NOLA area. One of them, called the "PinChurch" is a private venue for members of the Mystic Krewe (We regret that due to various reasons we can't open the PinChurch to the general public – many of the games are very old and fragile and we lack the resources to operate that space as a commercial/public operation). However, the MKPP (The Mystic Krewe Pinball Parlor) is a public arcade space open to all every day.
Our previous location on St. Claude was closed down due to Covid, but we've re-located, and we're VERY excited about the new space for obvious reasons: It's inside the famous BROAD THEATER! At 636 N Broad St, New Orleans, LA 70119 – This space is open daily from 2pm to 10pm (opening times vary depending upon movie schedules and may be open earlier/later) – you do not need movie tickets to come and play the games, and there's food and drinks at the space – all ages welcome. To contact the Broad Theater, call +1 504-218-1008.
We hope to make more spaces and games publicly available in the future (if you are or know a entrepreneur or restaurateur that is looking for a partnership with someone like us, contact us). Right now, the MKPP is the largest single array of vintage pinball machines in a public space in the New Orleans area.
Where to play pinball in New Orleans?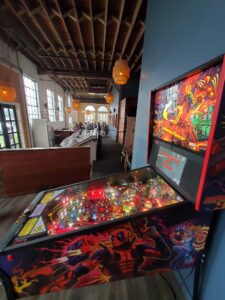 Open July 8th, 2015 is our first flagship public venue, the Mystic Krewe Pinball Parlor New Orleans! Our second location Opened July 19, 2021 at: 636 N Broad St, New Orleans, LA 70119
The new location has off street parking and is smack in the middle of one of the hottest up and coming areas of Mid-city, right next to Whole Foods and The Broadside and many other cool space. The Broad Theater is a great place to see indy movies and hang out with lots of interesting people. Hope to see you there!
For more information visit our Facebook Page.
Mystic Krewe Pinball Parlor LEAGUE!

New competitive league coming soon – stay tuned or e-mail staff@mystickrewe.com for info
For more details and to sign up. Visit the League Page Here.